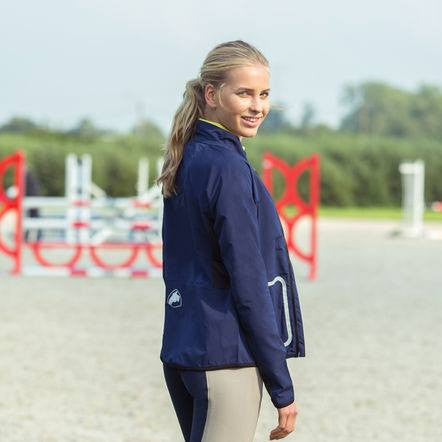 Horze Supreme Jessica Women's Softshell Jacket in Dark Blue
$ 79.95
The extreme stretch fabric on the sides of this Horze Supreme Jessica jacket provides plenty of freedom of movement while you ride.
Bold colors will grab everyone's attention when you wear this breathable, sporty, lightweight jacket. The sides are created with ultimate stretch for plenty of range of motion while you ride. The arms are lined with the same stretch fabric on the insides for ultimate freedom. The tapered waist is flattering, and the water repellent and windproof shell will keep you comfortable so you can ride without distraction. A reflective pocket on the front of the jacket just for your phone is a useful addition.
Features:
Sporty women's soft-shell jacket|Breathable|Lightweight|Contoured, flattering sides with full stretch for comfort|Reflective phone pocket on front|Water repellent|Windproof
Technical description:
100% polyester combined with 4-way stretch 95% polyester, 5% elastan.