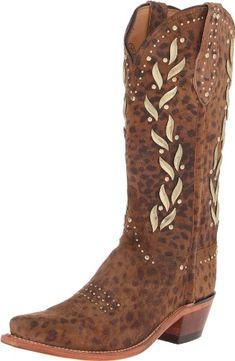 Lucchese 1883 Women's M4622 Studded Cowboy Boot in Camel Cheetah M4622 Animal Print
$ 395.00 $ 419.00
Lucchese 1883 Women's Vine Pattern Studded Boot in Camel Cheetah M4622.
Ladies' Lucchese Western with Burnished Vine Pattern Stud Detail.
Color: Camel Cheetah Print
Gender: Ladies.
Height: 13".
Toe: S5
Heel: 4
We have guided many custom boot productions for our customers, you can trust our knowledgeable staff with your special order.