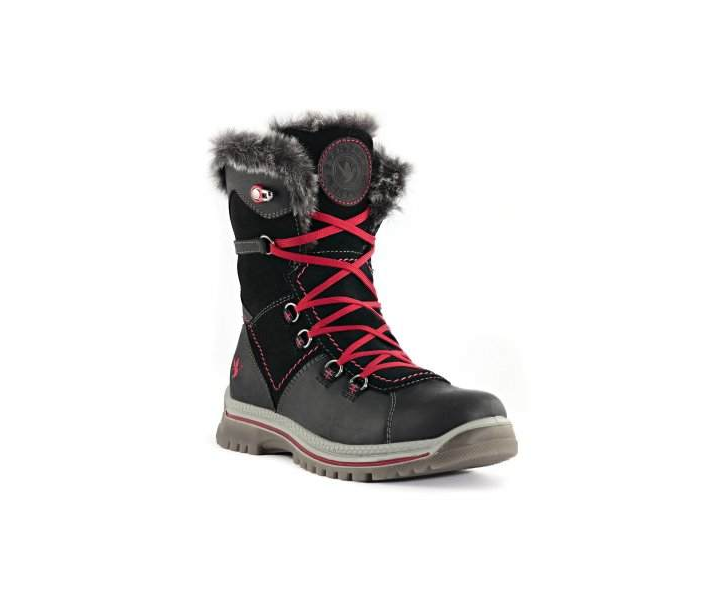 Santana Canada Women's Waterproof Majesta 2 Black Winter Boot Extreme Cold Rated to -30C/-22F
Sold Out
As perfect on the slopes as it is in the Chalet, the Majesta2 boot is a standout style that is sure to get you noticed. Chic, sleek and oh-so sporty - with a pro-dri waterproof membrane for dry feet and toes and anti-slip technology.
Full Sizes 6-11 medium width -  
Santana Canada Majesta 2 Black Winter Boot 
Waterproof alpine hiker
Suede leather with 50% wool blend lining. Reflective thermal insole with a waterproof Pro-Dri membrane and TPU anti-slip on soles.
Premium Crazyhorse Leather Uppers.

Warm 50% Wool Blend Lining.

 TPU/PU Outsole Lightweight/Flex/NonSlip.

 Fully Integrated Waterproof membrane.

 Thermal Insoles, Rated to -30C/-22F.

 Made in Italy with Italian Materials.

 Size Zip.

In addition to contrast laces, tonal laces provided.
Cleaning Instructions:
Prepare for winter season with leather shield, use leather lotion to moisturize half way through the season and nourish at the end of a rough winter.

Made in 

ITALY