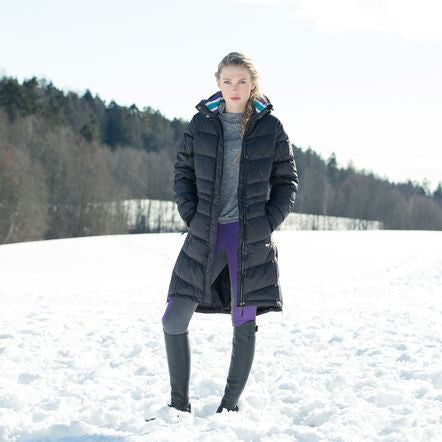 B Vertigo Women's Elina Down Long Winter Coat
$ 259.95
The lovely B Vertigo logo is embroidered on the left sleeve of this sophisticated winter coat.
Keep winter winds at bay this winter while you wear this beautiful long, warm coat for complete protection from the elements in the saddle or on the ground. The length of this warm jacket will protect your hips and keep you comfortable in whatever weather winter has to offer. This stunning jacket has a contrasting inner trim around the neck to match the rest of the B Vertigo collection. Elastic cuffs provide added insulation from drafts and cold. 2-way zipper and zipper pockets are easy to adjust while wearing gloves.
Features:
Waterproof, breathable
Lining with embossed logo
Soft inner ribbed knit collar with seasonal BV-contrast stripes
Down filling
2 way-body mirror foil zipper from new YKK fashion collection
Zipper outer and inner pockets
Seasonal logo at left sleeve
Extra elastic cuff with place for thumb
Adjustable Velcro at outer cuff
Detachable hood with adjustable elastic straps|Adjustable Velcro straps at backside waist
FREE SHIPPING in U.S.A. Any questions? Don't see your size? Please call our friendly customer service department at 1-800-430-7150 or Email us at Sales@SaratogaSaddlery.com.