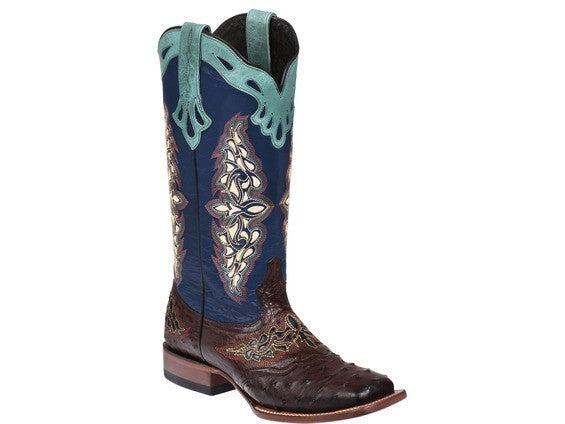 Lucchese Women's Amberlyn Ostrich Boot M5802 - Sienna/Navy
$ 695.00
This sleek Lucchese boot design is a must have. 
Amberlyn is colorful cowgirl boot with Western grit. This jewel-colored boot features a scalloped collar, decorative pull straps and vibrant stitching. Constructed with full quill ostrich, the saddle vamp accent allows underlying color to peek through 
the design. Leather sole. Handmade in Mexico. 
No other boot fits the human foot like a Lucchese boot, thanks to Lucchese's original design and meticulous construction.
MATERIAL:
Full Quill Ostrich
HEEL: F
Saratoga Saddlery has one of the largest Lucchese boot selections in the Northeast. Our in-store Lucchese experts would love to help you with your order. Sizes not in stock can be ordered and may take 3-6 weeks for delivery. Lucchese Classic custom-made boots may take 8-10. We always provide FREE SHIPPING in the U.S.A. Please call us Toll Free (800)430-7150 or email us at Sales@saratogasaddlery.com.