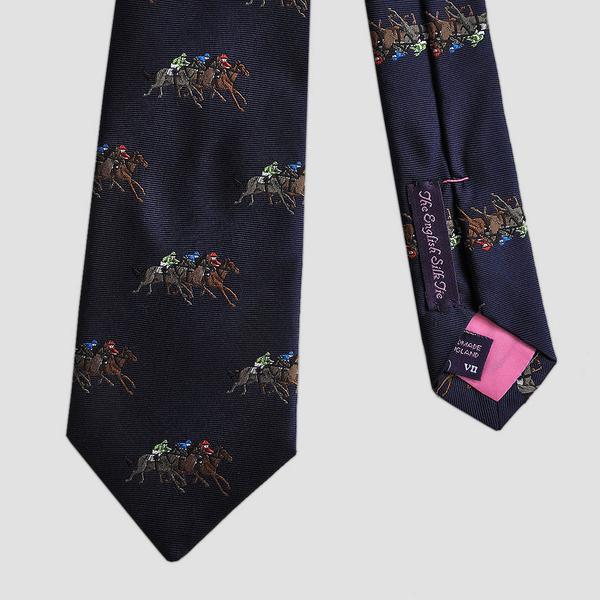 Seaward & Stearn Handmade Woven Silk Tie - At The Races - Navy
$ 149.95
And their off! Bet this equestrian men's silk ties with a "horsey" theme will have heads (and hats) turning!
The Seaward and Stearn silk & wool racehorse ties are quite simply a piece of British heritage; designed, colored and lovingly handcrafted in London using traditional techniques. Each pattern is individually designed and hand crafted from the finest fabrics.  Each tie is made with a dual lining of cotton and wool to retain shape and insure recovery for a beautiful long lasting tie.Adhering to traditional methods of tiemaking by hand and using only the finest fabrics, Seaward & Stern remain one of the very few English tiemaking companies designing and coloring its own style of fabric. 
Owning a Seaward & Stearn tie is akin to owning a fine piece of art. It was colored by an artist and made by hand. Hand made ties designed, colored, and manufactured exclusively in London, England.
- 100% woven silk, 3.5" width.
- 58"-59" length.
- Handmade in England.
FREE SHIPPING within U.S. on all orders over $50. Any questions? Don't see your size? Please call our friendly customer service department at 1-800-430-7150 or Email us at Sales@SaratogaSaddlery.com.